Landscaping Supply Store in Cincinnati, Ohio
Are you looking for landscaping materials for a landscaping project? It doesn't matter whether you're a contractor or a property owner with a DIY bent. You'll need to find a landscaping supply store in Cincinnati, Ohio that you can trust. Don't worry. We can help.
Benefits of Adding Landscaping Features
Adding landscaping features like patios, walkways, or outdoor kitchens can make your outdoor space feel more like home. These fixtures increase usability while simultaneously acting as unique focal points for the rest of the landscape.
Here are just a few of the benefits of adding hardscaping to your yard:
Define spaces
Extend usability
Increase property value
Add dimension to the landscape
Fix grading issues
Direct foot traffic
Create privacy
Reduce landscape maintenance
Increase sustainability
If you're a property owner, you'll be able to take advantage of these benefits every day. If you're a landscaping contractor, your clients will love the increased versatility that hardscaping has to offer. Either way, you'll need a Cincinnati, Ohio landscape company to find the high-quality materials required to get the job done right.
The Importance of Working with Quality Materials
No matter what project you're about to take on, you need high-quality materials to get the job done right. That shouldn't mean you have to break the bank to complete your project. Techo-Bloc manufactures amazingly high-quality pavers, stones, and other products and sells them at affordable prices.
Finding the Right Landscaping Supply Store
If you want to get your project off the ground fast, you'll need a reputable store by your side. Expect first-class customer service and high-quality products at these landscape supply stores in your area. No matter how large or small your project is, we want you to have the best experience possible. That starts with buying durable yet affordable materials and supplies from the best store around. Want to get inspiration for small spaces? We've got you!
Whether you're working on one small project or you need a constant supply of materials, work with the best. You shouldn't need to go to one supplier for your pavers, a second for stones, and another for outdoor fixtures. Find a reputable Cincinnati, Ohio landscape company that offers a wide range of durable, beautiful products.
Retaining Wall Supplies
Retaining walls add both aesthetic and practical value to any yard. They provide structural support and prevent soil erosion, letting you take full advantage of 100% of your space. With the right materials, retaining walls can also beautify your residential or commercial property. Find a landscaping supply store that offers a mix of products so you can choose one that's right for you.
Popular options for retaining walls include:
Mini-Creta
These versatile stones come with an aged finish for traditional-styled landscapes. They're perfect for both retaining walls and free-standing features. You can also purchase architectural stones with cleaner edges and a more modern aesthetic.
Graphix Double-Sided
The Graphix line is perfect for contemporary-styled homes and businesses. Their double-sided texture adds an extra level of aesthetic appeal to retaining walls. You can also include them in outdoor bars and free-standing walls.
Prescott Stacked
The gorgeous, natural color of Prescott stacked stones adds extra curb appeal to any landscape. They're perfect for any outdoor vertical feature, especially retaining walls.
Pavers and Slabs
The right pavers or slabs will perfectly complement any outdoor space. Slabs are perfect for accommodating pedestrian traffic in areas like patios, poolsides, walkways, or outdoor kitchens. Pavers are designed to create interlocking designs, making them equally suitable for driveways. They can withstand vehicle traffic without degrading over time. Check out our 8 stunning driveway options to inspire you!
Blu 80 Pavers
These modular driveway pavers come in many colors and styles. They can be polished for a more modern appeal or left in a natural slate form.
Hera Pavers
Want rustic-looking driveway pavers that form a perfect complement to your historic home, but don't want to spend a fortune? Hera pavers are as budget-friendly as they are affordable.
Hexa 100 Pavers
If you're looking to match a thoroughly modern aesthetic, Hexa 100 is the way to go. These hexagonal-shaped multi-colored paving stones are perfect for both residential and commercial applications.
Borealis Patio Slabs
These wood-imitation patio stones look and feel like real wood. Unlike wood, they require no maintenance. This makes them perfect for pool decks and patios. Get yourself inspired with our poolside ideas!
Industrial Patio Slabs
Industrial multi-piece patio stones look perfect in modern landscape designs. They can be polished, smooth, or textured for added slip-resistance.
Outdoor Features
Want to get even more out of your outdoor spaces? Installing an outdoor kitchen or fire pit will increase the yard's practical and aesthetic appeal. Visit a landscaping supply store in Cincinnati, Ohio to get all the fixtures you need. You can find:
Modern Fire Pits
If you want to add a fire pit to your backyard, the easiest and safest way to do it is to purchase a modern model. Try the Raffinato line for maximum fuel versatility or the Valencia round-shaped stone fire pit for a more traditional look. Install patio stones around the fire pit for extra safety, comfort, and style. See how fire pits can add something special to your backyard!
Full Outdoor Kitchens
There's nothing more enjoyable on a hot summer night than cooking outdoors. Include grills, side burners, and mini-fridges for increased usability. If you have a large family or entertain often, choose a design with plenty of storage space like the Highland. Learn more about creating your own custom kitchen here!
Outdoor Pizza Oven
Love pizza? With an outdoor pizza oven, you can create the perfect pies right in your backyard. Try pairing the Manchester over-counter kit with a Forno pizza oven for extra visual appeal.
Stone Steps
Landscaping on a grade can present some challenges. Turn those challenges into opportunities by pairing stone steps with terracing and retaining walls. The right steps will do more than just serve their purpose. They will act as a focal point for your landscape, creating even more visual appeal.
Maya Steps
The Maya line is perfect for building steps on steep terrain. These massive, natural-looking stone steps look fantastic raised up above the surrounding landscape.
Borealis Steps
Love wood steps but don't want to deal with warping, rot, and insects? Install steps from the Borealis line. They're made from concrete, so they can withstand anything nature has to offer, but they look like wood.
Raffinato Steps
If you're looking for a more contemporary option, Raffinato is the perfect line. These thoroughly modern concrete steps don't stain or crack. They'll look their best for years to come.
All the Accessories You Need
You'll need a few things to install new patio stones, steps, retaining walls, or other features. You shouldn't need to go to another store to find them.
That's why Techo-Bloc also offers:
Buzon
Rust Remover
Slope correctors Efflorescence Cleaner
Paint & Tar Remover
Polymeric Sand
We also sell all the cleaning and maintenance products you'll need.
Virtual Boutique to Brick-and-Mortar Buying
Many property owners and professional contractors start their searches off online. Visit our virtual boutique to see what Techo-Bloc has to offer. Once you've chosen the perfect aesthetic, we'll direct you to a local landscape supply expert who can help. Get access to all the products you need and the customer service you deserve from a local Techo-Bloc dealer.
Get Started Today
No matter what kind of landscaping feature you plan to build, you'll need high-quality materials. Get the project started off on the right foot by finding a landscape supply store in Cincinnati, Ohio that you can trust. We can help you find a local store that will meet your needs and exceed your expectations.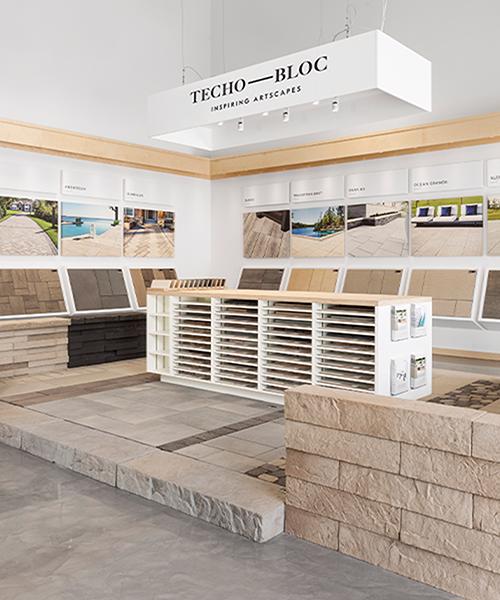 Brick & mortar or virtual boutique
Fallen in love with a Techo-Bloc product? Find a Techo-Bloc dealer in your area through our website to see and touch the products that caught your attention. Their expertise will guide you to find the perfect products for your landscaping project!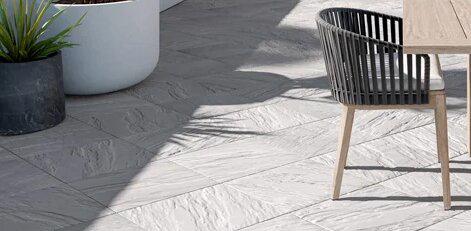 Pavers & Slabs
Installing pavers and slabs as part of your yard's landscape can transform your space from basic to an outdoor oasis. From pathways and patios to driveways and pool sides, find the design and products that accentuate your home.

Top Selling Products: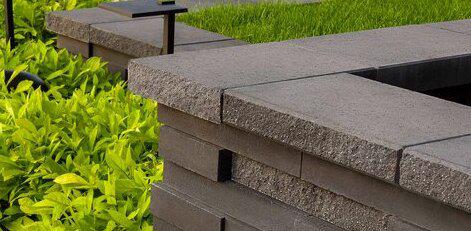 Retaining Walls
Make a statement and add some dimension to your yard. From impressive flowerbed frames, seating benches, fire features and much more. Retaining walls provide a visual interest whichever way you decide to incorporate them.

Top Selling Products: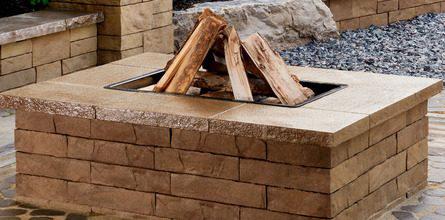 Outdoor Features
Your grill is the engine of outdoor occasions. You've managed with a freestanding grill but imagine these evenings with a built-in. Think about the dinner you could prepare with real counter space and a full outdoor kitchen.

Top Selling Products: