No matter the outdoor space you are looking to renovate or your preferred design style, we have something to get your creative juices flowing.
Backyards
Dreaming of transforming your outdoor area into a fabulous oasis? We'll show you how to add elements to up your backyard game and create a show stopping-space that shouts "come on over" from every level. From custom dining spaces and nature-inspired poolsides to catwalk-worthy walkways and everything in between, you will find no shortage of ideas to create your own breathtaking outdoor space.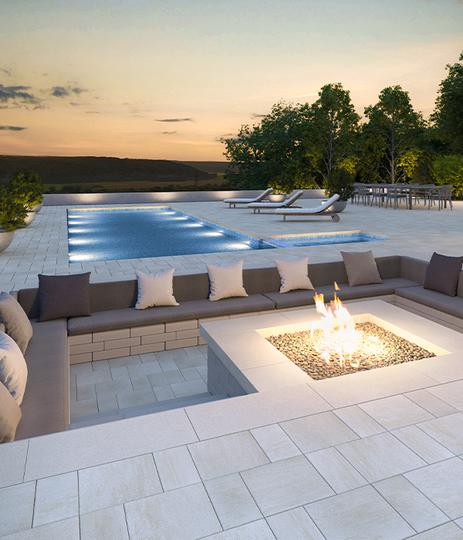 Industria 300 Series paver in Beige Cream
Raffinato wall & cap in Beige Cream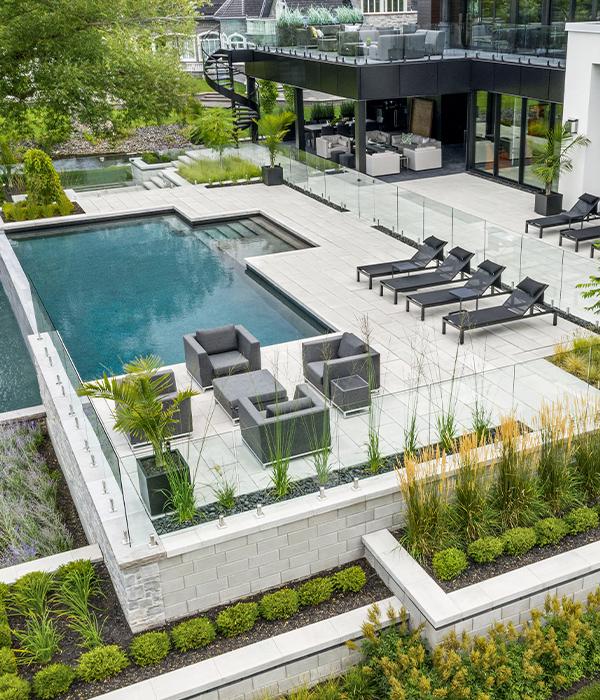 Blu Grande Smooth slab in Greyed Nickel
Raffinato cap in Greyed Nickel
Poolsides
Nothing screams summer like jumping into a refreshing, picture-perfect pool on a hot day. Whether you're looking to create the ultimate entertainment space for your neighborhood pool parties, or you'd rather relax serenely in a sophisticated dipping pool perfectly tailored to your small space, you will certainly find inspiration with our something-for-everyone collection of poolside ideas.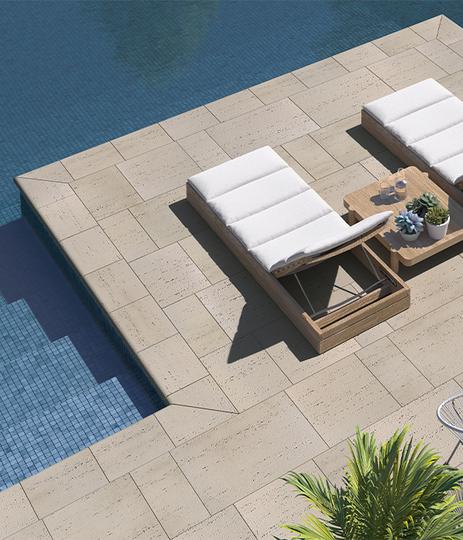 Travertina Raw slab in Ivory
Bali Travertina Raw cap in Ivory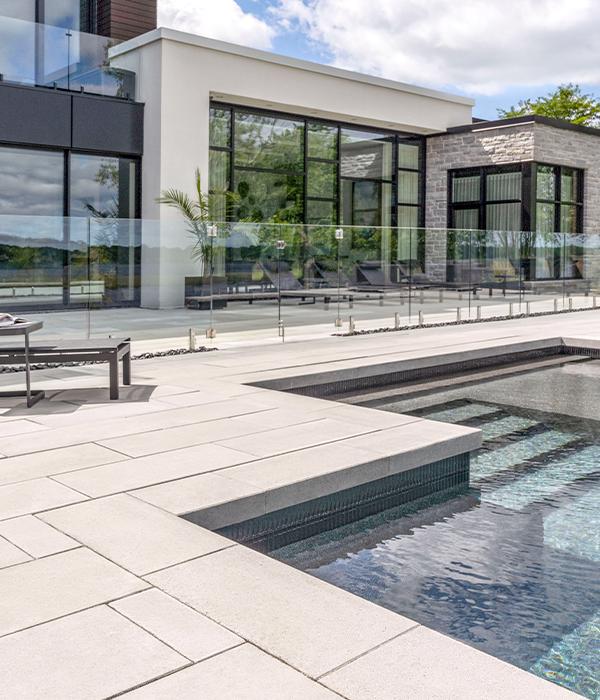 Raffinato cap in Greyed Nickel
Patios
Set the stage for the ultimate summer gatherings right in the comfort of your own backyard. Whether you dream of eating al fresco with your loved ones on the perfect patio or relaxing in your own retreat-like oasis, you'll love our outdoor patio ideas.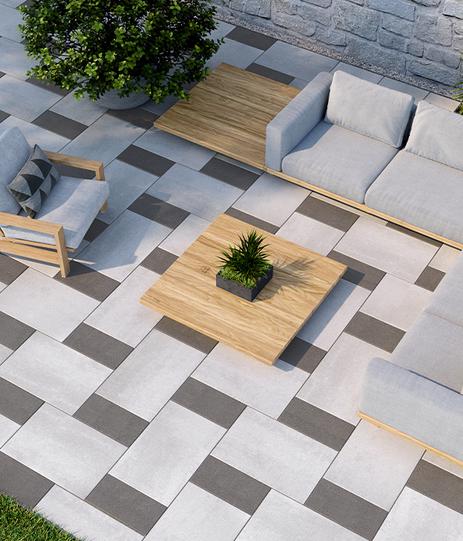 Para slab in Greyed Nickel and Onyx Black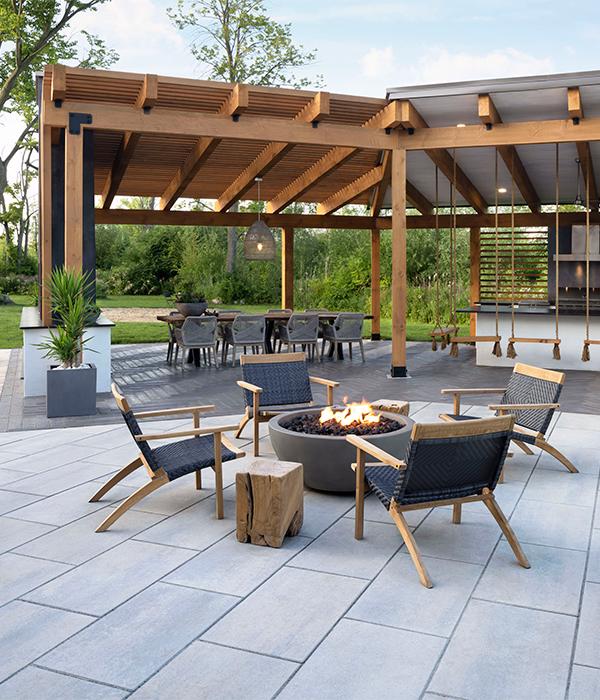 Blu Grande Smooth slab in Greyed Nickel
Borealis slab in Smoked Pine
Front yards & Driveways
Looking for driveway designs to up your curb appeal? You've come to the right place! From uniquely shaped pavers to larger-than-life stones, making a big impression at ground level is inevitable. Whether it's a sleek and modern surface or a slate texture you're seeking, our driveways feature products hand-crafted to create perfect harmony with your home's architecture.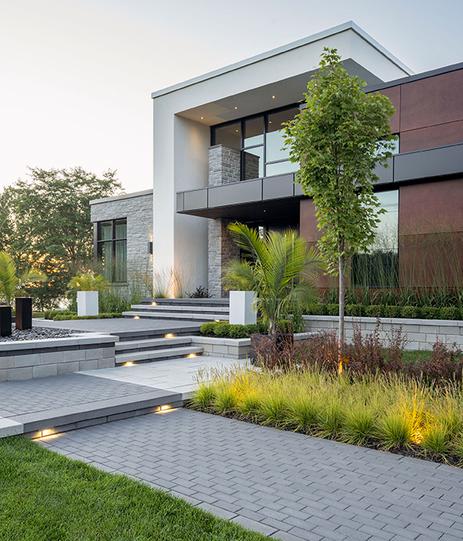 Victorien paver in Onyx Black
Raffinato wall and cap in Greyed Nickel and Onyx Black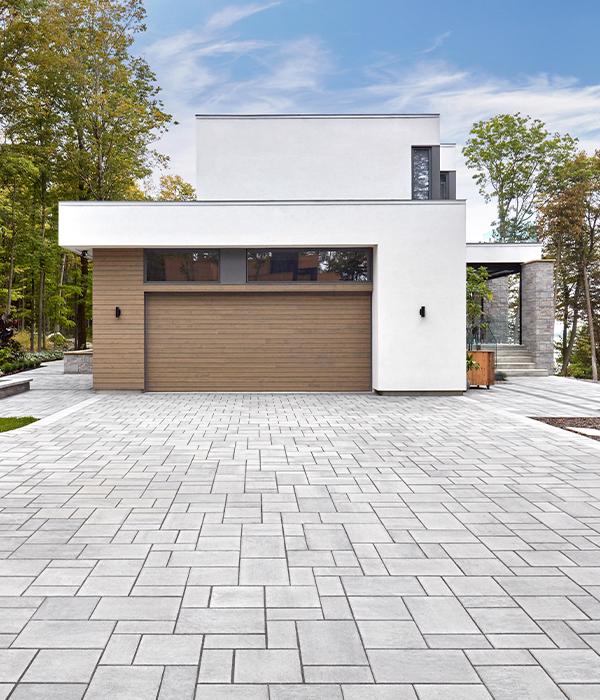 Blu 80 Smooth paver in Shale Grey
Outdoor kitchens
Ready to get things cooking in the great outdoors but not sure where to start? Why not treat your inner grill master to a custom and fully functional outdoor kitchen? With the possibility to add features such as a pizza oven, side-burners and storage, gone are the days of running back and forth from your barbecue to your indoor kitchen while also hosting your annual neighborhood get-together. So, what are you waiting for? Whet your appetite with our curated collection of open-air, outdoor swoon-worthy ideas!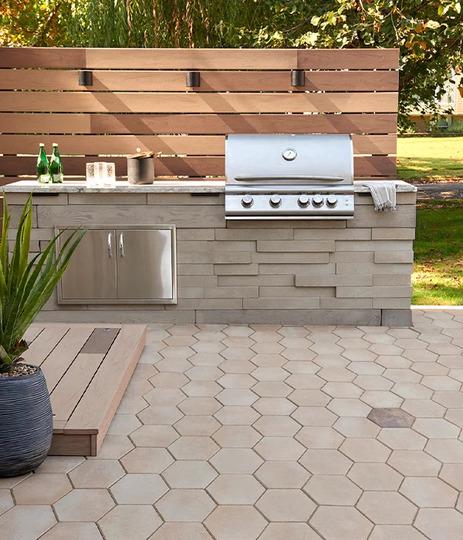 Graphix Wall in Beige Cream
Hexa Slab in Beige Cream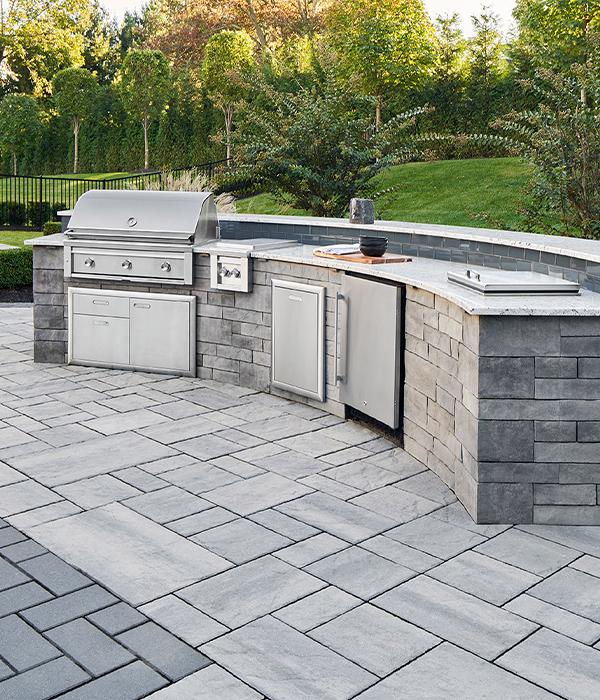 Brandon wall in Shale Grey
Blu 60 Slate slab in Shale Grey
Blu 6x13 Smooth slab in Onyx Black
Walkways
Though they're often nestled along the side of a home, don't overlook the potential of a stunning walkway. Whether winding, long and linear, or bold checkerboard style, walkways create a smooth transition between exterior spaces. Lay down large slabs for a grandiose effect or strategically place outdoor lighting along your path for a final dreamy touch – the design possibilities are endless!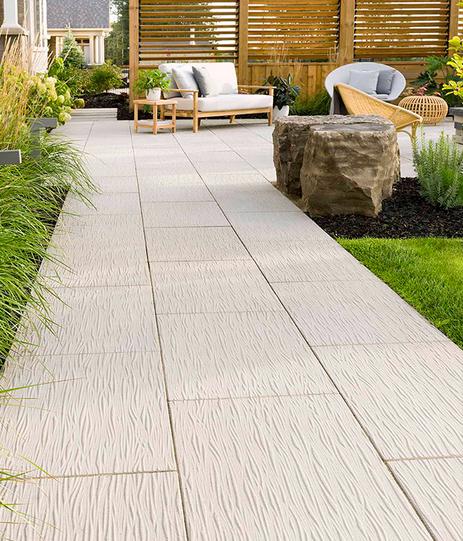 Ocean Grande slab in Beige Cream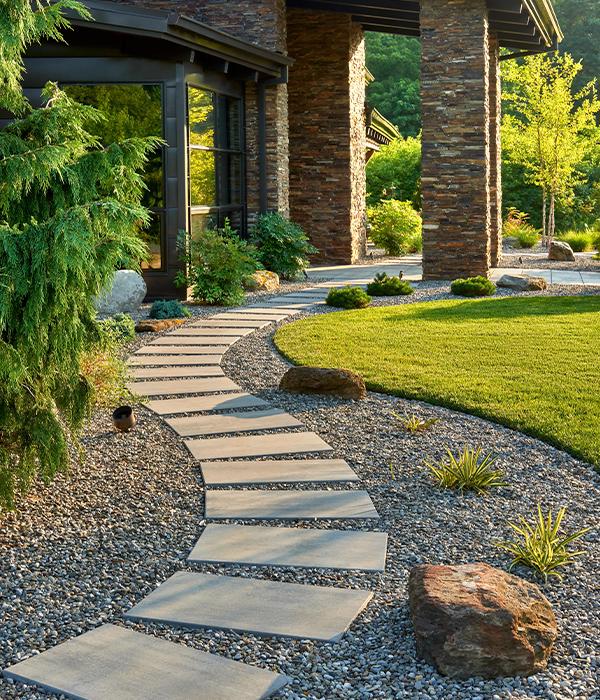 Blu Grande slab in Shale Grey
Ready to redesign your outdoor space?
Get The Backyard Planning Guide
This guide breaks down the steps to a well-planned & successful landscape renovation. We will help you make a wish list, find the right contractor, breakdown your budget and much more.