Landscaping Supply Store in Nashville, Tennessee
Are you looking for high-quality, attractive landscaping supplies in Nashville, Tennessee? Whether you live in a suburban subdivision, a historic neighborhood or a country retreat in the Nashville area, your lawn and landscaping contribute to the street appeal and appearance of your home. For commercial properties, offices and public buildings, the approach to the building and landscaping make a first impression on customers, employees and the public.
There are exciting and inspirational ways to create an outdoor environment that reflects your lifestyle, sense of aesthetics and values. Techo-Bloc offers a wide range of landscape supply products, including pavers, pool coping, cobblestones, outdoor flooring, stairs and walls, to help you create an exterior that complements your property. We serve communities throughout the Nashville, Tennessee area. Visit our Nashville landscape supply distributors online or in their stores to find products. You can also contact a Techo-Pro certified landscaping contractor to help you transform your dreams from ideas to reality.
Who We Are
Founded by Charles Ciccarello, Techo-Bloc brings years of artisanship, landscaping knowledge and design inspiration to the hardscape industry. We offer an extensive portfolio of high-quality landscaping materials, including pavers, outdoor kitchens, fire pits, pool copings, retaining walls and accessories. Using advanced engineering technology, we craft our products to simulate the beauty and durability of natural stone and brick. We take pride in our products, providing versatile materials with colors, textures and designs that create a one-of-a-kind look.
Techo-Bloc works with more than 800 distributors throughout the U.S. and Canada who showcase our products and help customers select the best materials for each project. Our Nashville distributors include building supply companies, nurseries and masonry supply companies. They can also provide referrals to landscaping contractors in the Nashville, Tennessee area who are affiliated with Techo-Bloc, including landscape design professionals, hardscape construction contractors and other industry professionals.
Whether you are building a whimsical garden path, a deck for your weekend home or designing new landscaping for your commercial property in Nashville, Tennessee, our local distributors can help. We supply the materials, tools, cleaning supplies and accessories that help make your project a success.
Our Products
Nashville, Tennessee residents know how the hot summers, humidity and cold winters affect pavement and other elements in the landscape. We engineer our hardscape products to withstand extreme climate and weathering conditions that may cause other materials to fade or deteriorate. Our products come with detailed specifications, installation guides and warranties. Transform your garden with edging stones, pathways and retaining walls to add depth and texture and create visual interest. Pool copings, stairs, patio flooring, seating arrangements and fire pits are just a few ways to jazz up your outdoors and define areas for entertaining or relaxing.
Pavers
Techo-Bloc's extensive lines of pavers come in designs, colors, textures and sizes that allow you to select a product that complements the style and ambience of your property. From old-world cobblestones to sleek, polished pavers with a modern look, we have a style that will suit your needs. Our interlocking pavers are strong and have consistent color and tonal qualities that never change and are backed by a transferable lifetime warranty. All our pavers are suitable for driveways, engineered with exceptional flexural and compressive strength.
Texture gives a distinctive look to pavers, adding depth and highlighting color. Textured surfaces are important for pool surrounds, walkways, concourses, driveways and other surfaces where slip-resistance is required for safety. Choose from patterned flagstone, cobblestone, granite-look pavers and large dry-cast slabs with a beach sand texture. Our Industria series is popular for modern commercial and residential designs. Combine pavers with borders and inserts of contrasting sizes and colors for a distinctive look.
Each line of paver features distinctive colors. Choose from warm beiges, neutral greys and vibrant reds to match your color palette. The color is consistent throughout each piece, ensuring long-lasting color that will not fade or change with years of use.
With almost 50 inches of precipitation each year, Nashville residents know the importance of allowing rainwater to percolate quickly through to the substrate. Our permeable pavers are engineered to enhance stormwater management, eliminate puddles and reduce the risk of flooding. Use them for driveways, patios, parking lots and other areas with expanses of pavement.
Garden and Retaining Walls
To make your landscape interesting, go beyond flat expanses of turf and tile. Add depth and character with walls, berms, pillars and tiers. Retaining walls, flower boxes, sunken patios and raised beds add dimension and interest. Coordinate textures and colors with your property's architectural elements and other prominent features.
We design our garden and retaining walls with the same attention to detail, strength and aesthetics as our other landscaping supply products. Mix, match and contrast colors, textures and shapes, including curves, to create a unique landscape that expresses your taste. Use them for fire pits, outdoor kitchens, partitions, fountains or water features. Whether you prefer a smooth, finished surface, a rustic, chiseled face, a stacked wall or a timber look, our versatile building blocks add visual interest. Several, including Mini-Creta Architectural walls, feature two-sided finishes. Each comes with a detailed specification sheet that includes an installation guide and suggested layouts and patterns.
Get inspired by some retaining wall design with our blog!
Copings and Wall Caps
Copings and caps add a finished look to hardscape elements. Use copings around pools to soften edges, as stair treads, for outdoor seating and wall and pillar caps. Available in several textures and colors, you can create a unique design using pavers, wall building blocks and other hardscape elements. Techo-Bloc offers 15 different coping and wall block styles that range from rustic to modern.
Our wet-cast, stone-look copings combine ease of care and durability with the look of natural stone. In Travertina Raw, we built in the fissures and striations characteristic of natural travertine. York and Piedmont are additional lines of simulated stone. Choose from roughened, polished or brushed finishes suitable for pool decks, stairs, edging and more.
Rounded, smoothed bullnose coping adds safety, comfort and a softer look to pools, seating and other applications where you want to avoid a hard edge. Use the same style of bullnose coping and pavers for a finished look, or mix paving and capping styles for an eclectic look.
Stone Steps
Step up your landscape with stone steps. Use them to add depth and texture, connect areas or lead visitors to interesting areas on your property. Our nine styles of maintenance-free stone steps are engineered to withstand water, heavy foot traffic and staining. For a natural look, choose from our stone line that simulates slate, bluestone, limestone and travertine. Select colors that complement your outdoor environment, including greys, browns and sandalwood. From rustic to modern, Techo-Bloc steps blend with any architectural style and landscaping palette.
Outdoor Kitchens and Fire Pits
Outdoor living is a major part of the Nashville experience. Our line of Nashville landscape supplies includes outdoor kitchens, fire pits and grills. Whether you want an outdoor station for the barbecue chef or a place to bring family and friends together, our line of outdoor ovens, kitchens and fire pits meet the need. For a well-organized unit, our outdoor kitchen includes a mini-fridge, countertops, storage cabinet and grill. Choose between two finishes, and customize it with accessories. Learn more about creating your own custom outdoor kitchen!
An attractive outdoor environment creates a positive impression. In addition, well-planned landscaping incorporates safety features, directs the flow of pedestrian and vehicular traffic and contributes to environmental sustainability. Techo-Bloc landscaping supply products are practical, durable and attractive. We back our hardscape products with transferable lifetime limited warranties.
To find out more about incorporating Techo-Bloc landscape supply products into your Nashville, Tennessee residential or commercial landscape, contact a distributor listed on this page.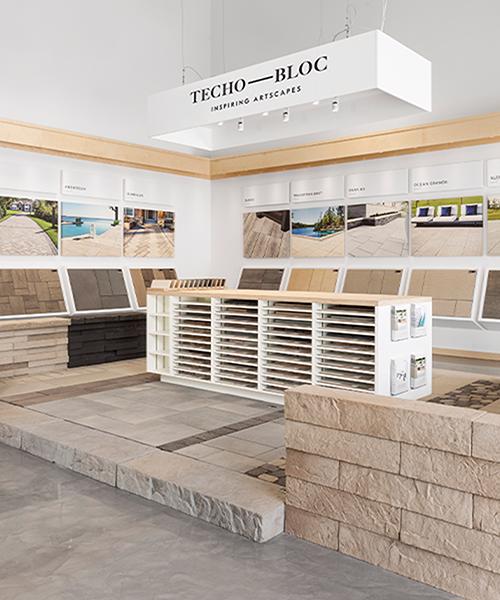 Brick & mortar or virtual boutique
Fallen in love with a Techo-Bloc product? Find a Techo-Bloc dealer in your area through our website to see and touch the products that caught your attention. Their expertise will guide you to find the perfect products for your landscaping project!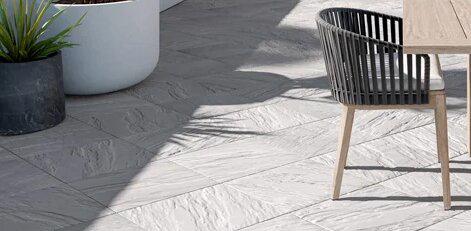 Pavers & Slabs
Installing pavers and slabs as part of your yard's landscape can transform your space from basic to an outdoor oasis. From pathways and patios to driveways and pool sides, find the design and products that accentuate your home.

Top Selling Products: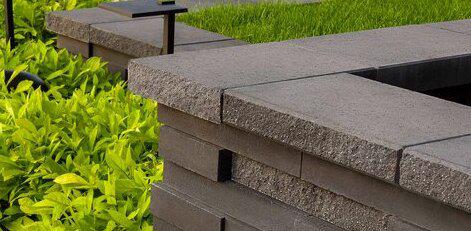 Retaining Walls
Make a statement and add some dimension to your yard. From impressive flowerbed frames, seating benches, fire features and much more. Retaining walls provide a visual interest whichever way you decide to incorporate them.

Top Selling Products: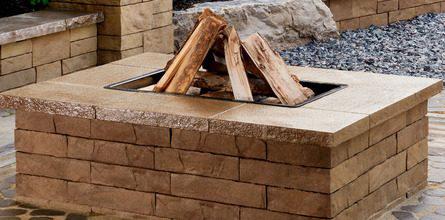 Outdoor Features
Your grill is the engine of outdoor occasions. You've managed with a freestanding grill but imagine these evenings with a built-in. Think about the dinner you could prepare with real counter space and a full outdoor kitchen.

Top Selling Products: